Hey all,
Whew! Now that the sales season is almost finished and the holidays are right around the corner, I feel it's a good time to reflect and look back on the past year.
Obviously, our growth and our increasing brand awareness throughout the world has been a huge highlight. However, when I think about those things, I'm reminded that all of that happens because of one thing: our people and culture. The most important and exciting thing that happened consistently throughout the year for the business was all of you!
Our values of being "good for nothing" and "make it better" really shined through above everything else. The ever-changing landscape of our world has been one of the most challenging things to navigate this year (some would argue in our lifetime). From shutdowns to working remote to the ever-changing rules when gathering, 2021 has been nothing but frustrating. But when I look back on it, you all did such an amazing job working together. It's not easy and change is hard, so I thank you for everything. As a company, you all succeeded in so many ways, across all departments. Way to go, team! I'm so proud of our ever-growing family and I hope everyone had as much fun as I did.
As I look forward to 2022 and 2023, I get so excited! The evolution is here, and I can't wait to share all the new and innovated projects we are working on over the coming months. From systems being put in place for a better experience to innovative products being sampled to collabs coming to life, the list goes on and on. The possibilities are endless of what we can accomplish in the coming year. So, let's get it!
Happy Holidays to all of you and your families. I wish you only the best this coming New Year! Be sure to get some well-deserved rest and thank you again for everything.
Making life better, by making every day more comfortable…
Dez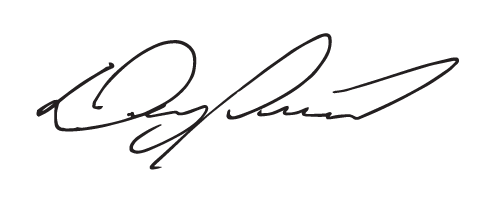 BN3TH THE SURFACE OF THE BRAND
Our fearless leaders give insight into the early origins of BN3TH and how we're looking to change the way men look at underwear. This video dives into the passion, creativity and hard work that our brand ethos exemplifies.
BLACK FRIDAY GOES BOOM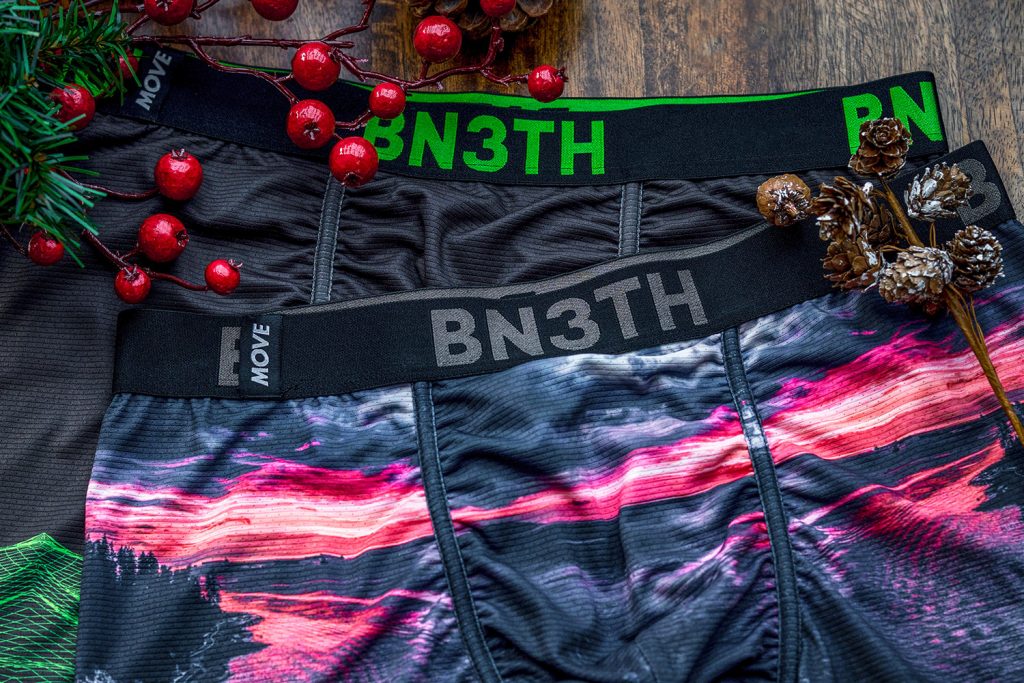 For 2021, Black Friday on BN3TH.com spanned from November 21st to the 29th. During these nine days, we broke our previous year revenue benchmarks by 40%.
Another notable from this year's effort was that the average order values increased considerably due to the Bulk Builder promotion, where people would save more money by spending more money. Huge thanks to everyone who contributed to this effort!
HOCKEY JOCK PUSHES PERFORMANCE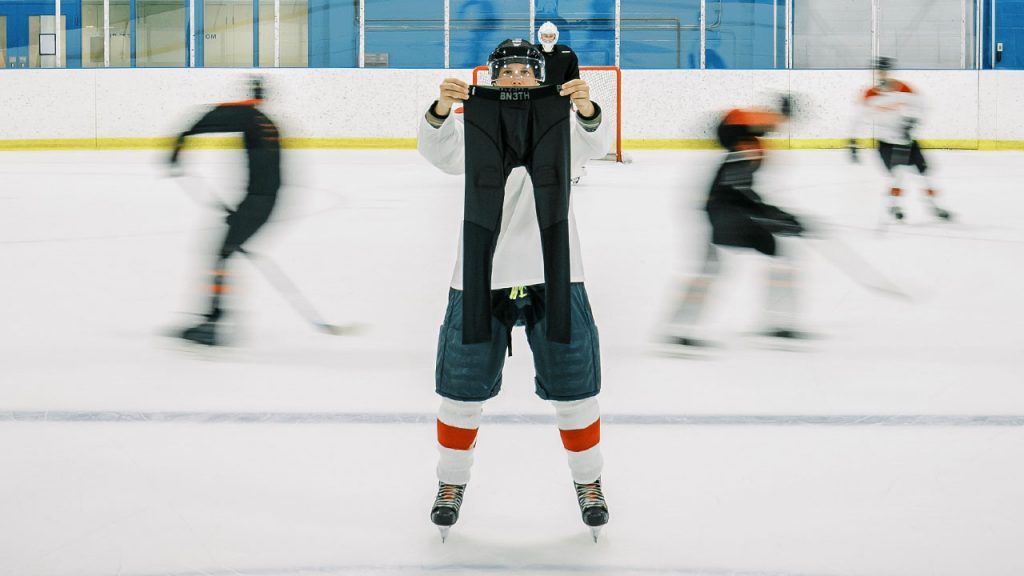 The launch of the Coast to Coast Hockey Jock marked another milestone in BN3TH's legacy of innovation in helping men be more comfortable, and subsequently perform better. This statement is held true by our customer reviews as over 75% of the feedback has been 4 or 5 Stars.
The media partnerships behind this launch yielded over 1.5M impressions. Notable stats from these campaigns were that the Men's Journal article yielded an average view time of over four minutes. The roadblock banner placements on The Score and Men's Journal also received click throughs of 4-5x the average standard performance of these units. These stats have shown us that people are interested in our message and are taking the time to engage with us. We look forward to continuing this awareness around the Coast to Coast Hockey Jock, and for BN3TH as the go-to brand for men's comfort and performance.
THE TEAM CONTINUES TO EVOLVE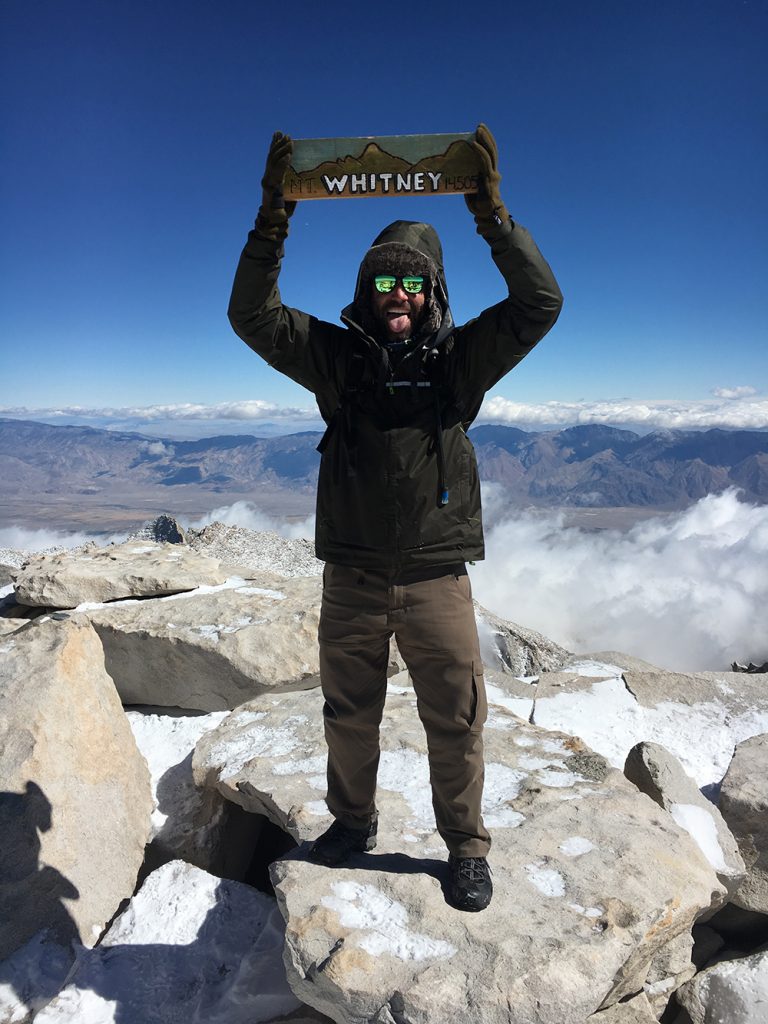 For anyone who may have missed it, Mike Cianciulli joined our marketing team on November 1st. Mike comes to us with a ton of applicable experience in working as content producer and storyteller for global brand leaders and niche media outlets. Mike's role as the Lead Brand Storyteller will focus on growing our brand audiences and the resulting business from them. His direct responsibilities will be against copywriting, content production and the distribution of our content through all consumer facing channels. — Zach Boon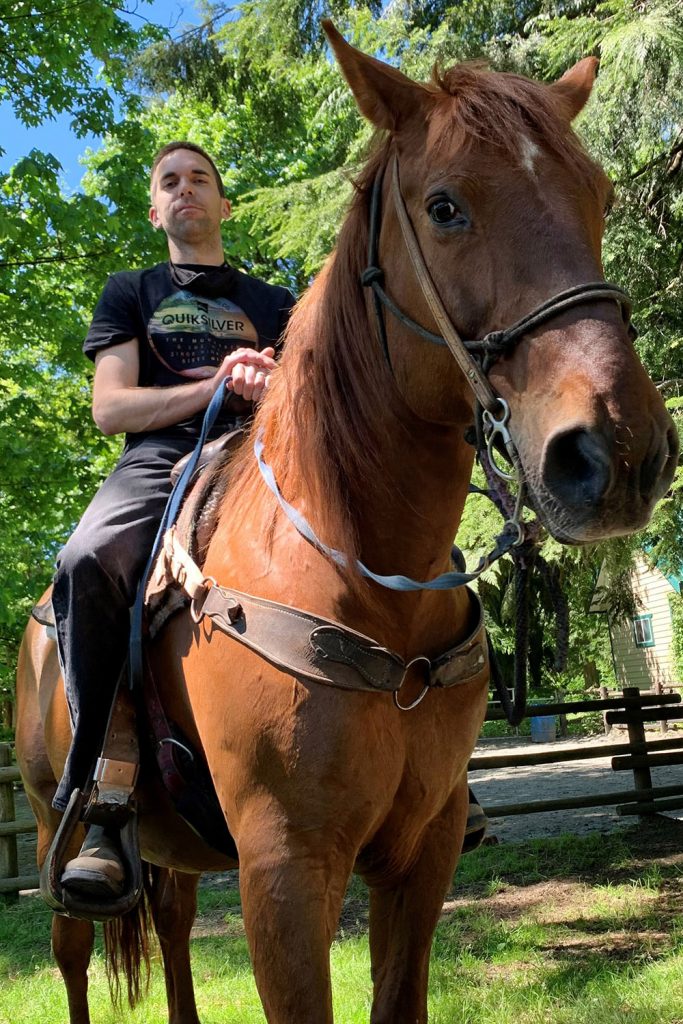 Chad Nehring recently joined us as Operational Excellence Manager. Chad is here to help us raise the bar, help champion any Operational projects that "Make it Better" and remove any barriers that would stop us from growing. He used to work in NRI (and worked on the MyPakage brand at the time), has worked with several of our current team while he was at Native, while also picking up significant experience in the IT space. — Peter Mayston
ENTOURAGE NEWS
STEADY PUSHING WITH T.J. ROGERS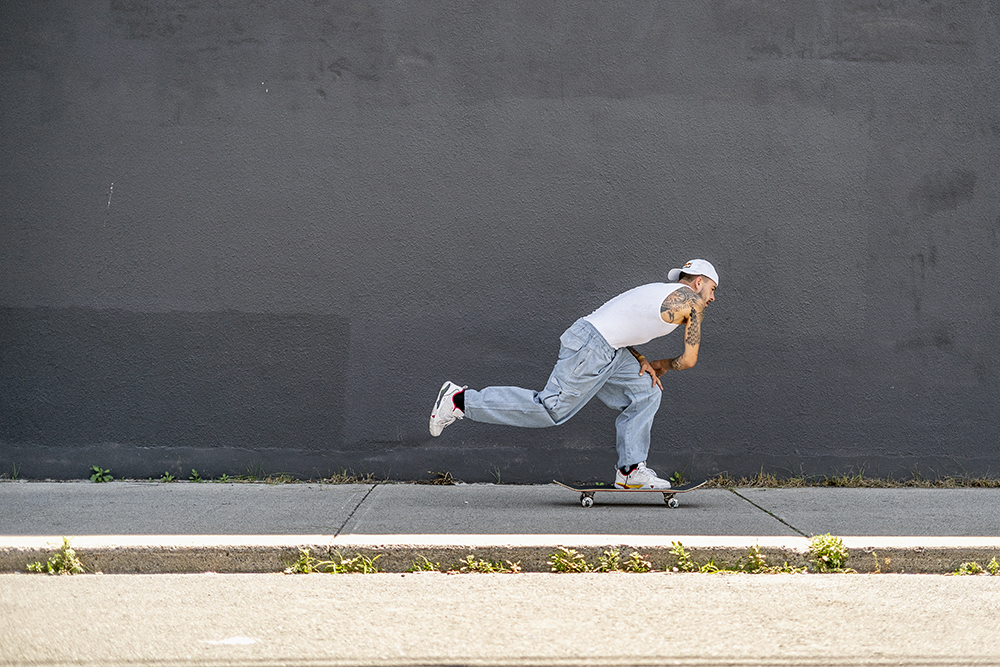 Entourage member T.J. Rogers just dropped his highly-anticipated skateboard film Steady Pushing. It's a deep dive into Canada's skate culture through the lens of a summer-long road trip. Weekly segments continue to pepper Red Bull Skate's You Tube channel or you can watch the entire thing on Red Bull TV.
https://www.youtube.com/watch?v=r6j20IMN4vI
PARKER COFFIN JOINS RESURECTED DRIVE THRU TV SERIES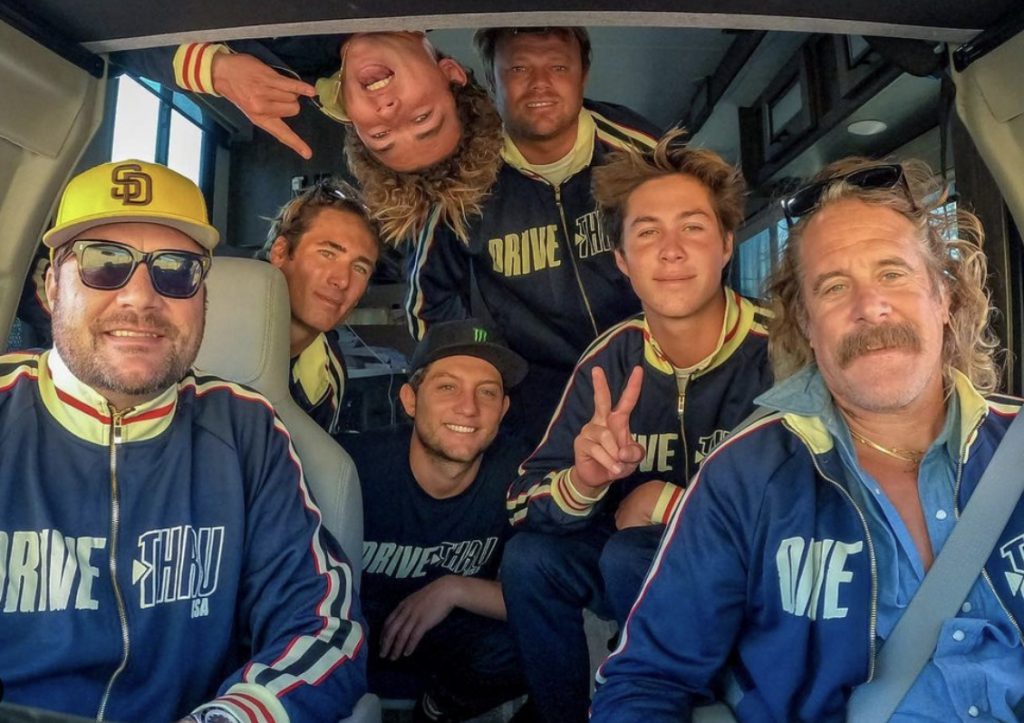 Surfers in the early 2000s wore baggy boardshorts and bad sunglasses. But they had fun! Perhaps most exemplified by the seminal Drive Thru series on Fuel TV. After over a decade hiatus, Drive Thru TV is back on Fuel TV and features a hot young crop of fun-seeking freesurfers, led by none other than Entourage member Parker Coffin. The cast raised hell on a wild road trip around the USA so be sure to tune in when the series airs on Fuel TV in early 2022.
SORGE GETS SECOND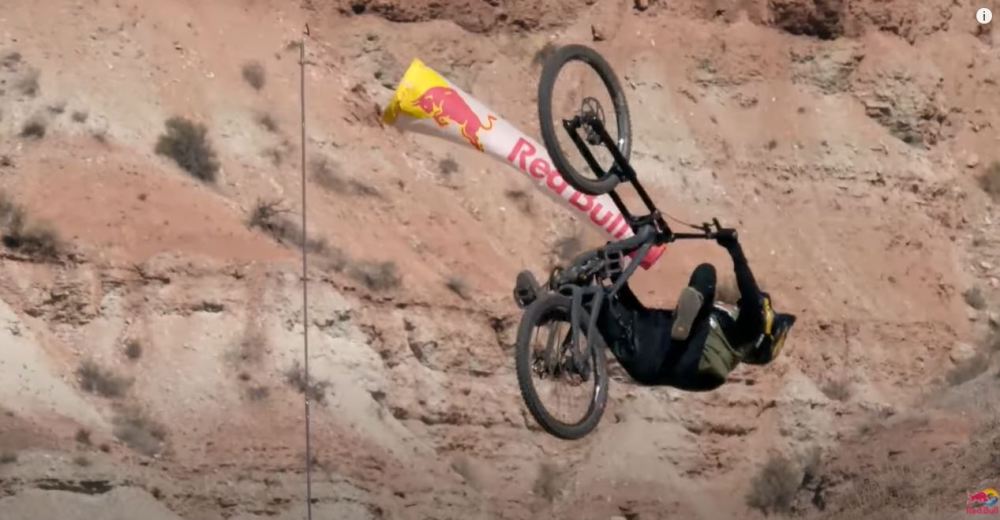 Three-time Rampage champ and Entourage member Kurt Sorge was thirsty for a fourth title in Utah. So much that he revisited his winning line from 2017. Supermans, suicide no-handers and multiple backflips served him well, but he ultimately couldn't push past Brandon Semenuk's technical tricks for the top spot on the podium.
https://www.youtube.com/watch?v=HNFp9duXKO0
BN3TH REPRESENTED AT THE MINT 400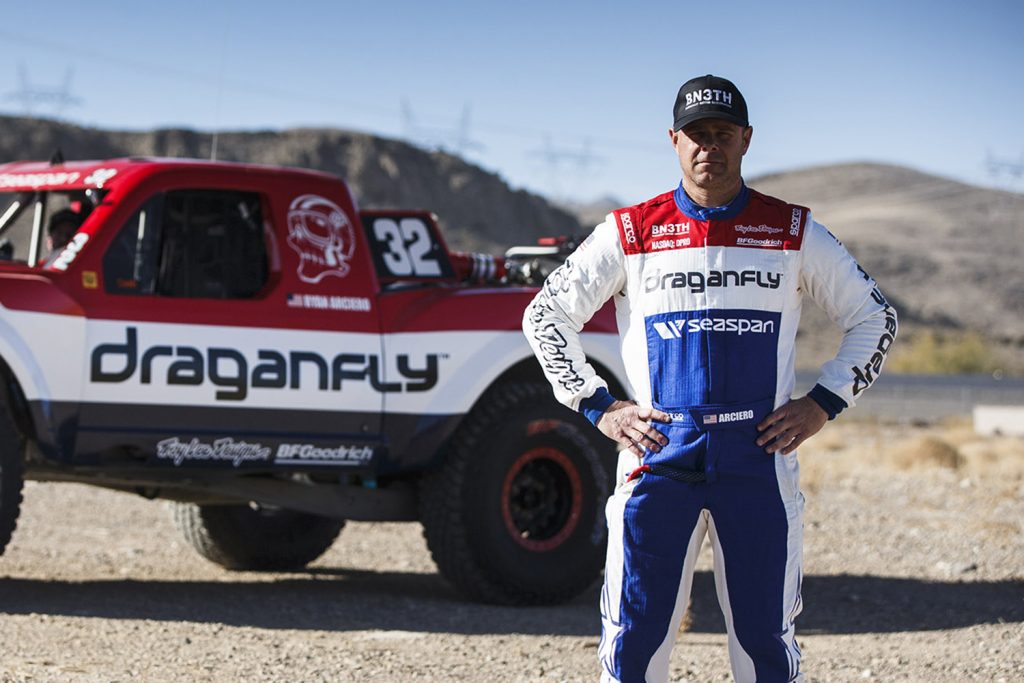 Ryan Arciero and the Draganfly Truck took second place in the Unlimited Class (Trophy Trucks) at the prestigious Mint 400. Arciero was wearing BN3TH products during this grueling event and even had our logo on the truck and his race suit.

MEN'S HEALTH "SUPPORTS" BN3TH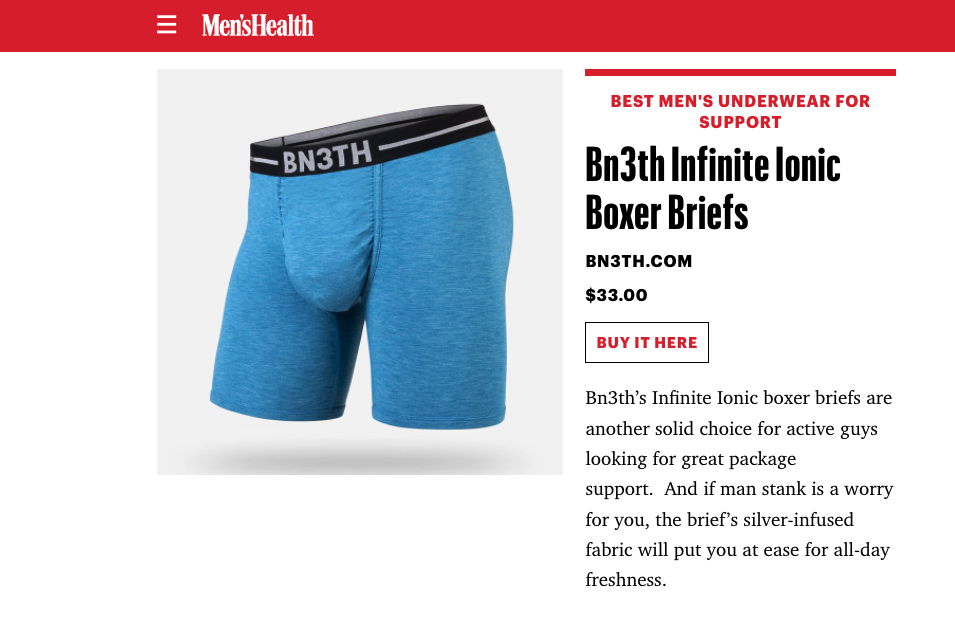 https://www.menshealth.com/style/g19546347/the-best-mens-underwear/
FORBES SAYS BANK ON BN3TH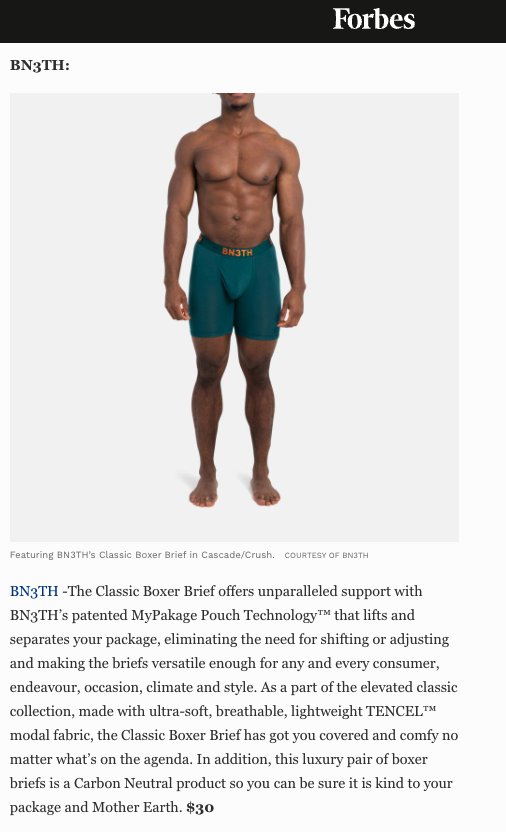 https://www.forbes.com/sites/josephdeacetis/2021/11/27/the-best-underwear-for-men-is-worth-knowing-about/
ADDITIONAL MEDIA HITS
Green Global Travel:
Sustainably Chic:
https://www.sustainably-chic.com/blog/sustainable-mens-socks-ethical-underwear
Ask Men:
https://www.askmen.com/style/shopping/53-best-stylish-gifts-for-men.html
Gear Patrol:
https://www.gearpatrol.com/outdoors/g38422723/small-outdoor-items-gift-yourself-2021/
Surfer's Fix:

NOVEMBER BY THE NUMBERS
1,316 New Followers (+15.6%)
8.05 Million Impressions (+184%)
59,786 Engagements (+66.6%)
38,529 Link Clicks (+97.6%)
53 total posts and stories (+39.5%)
OUR HIGHEST ENGAGING INSTAGRAM POSTS FOR NOVEMBER…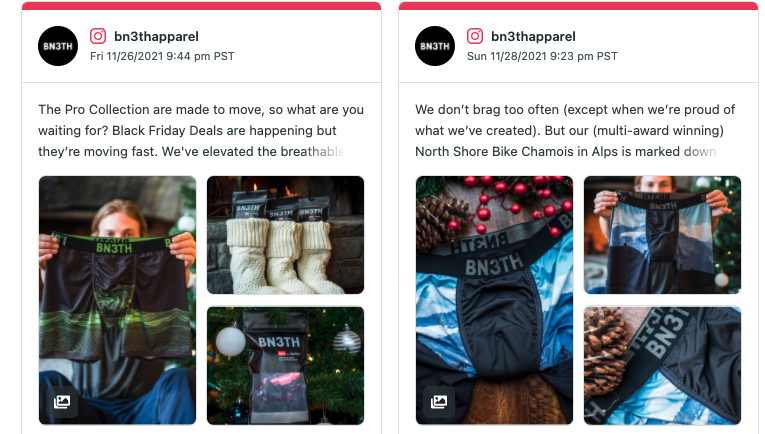 MORE SOCIAL SHOUT-OUTS
https://www.instagram.com/p/CVoxoKGlKmP/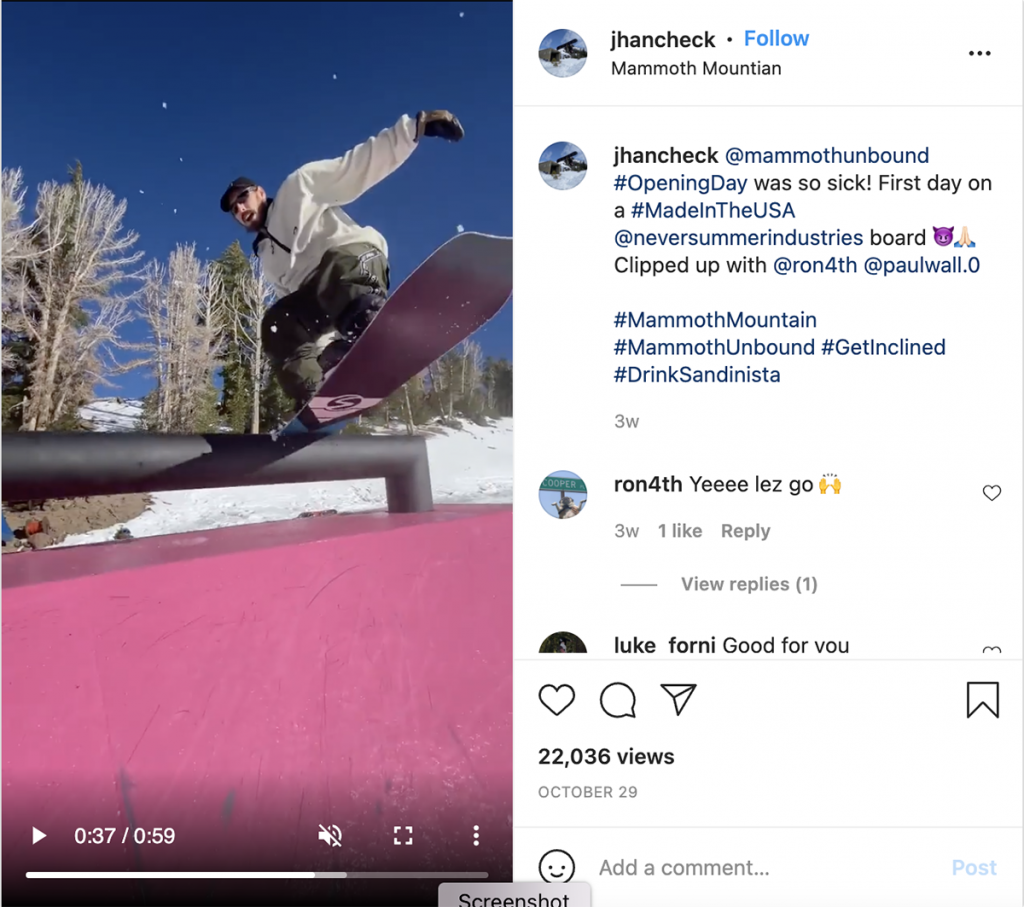 AMERICAN FIELD EVENTS PLANT SEEDS
"We recently wrapped up two of the three American Field events in Boston and Denver and, for the first time, we were interacting with new consumers face to face and selling product. This was a great activation to fire up our key cities plans and also build strong relationships in cities where we are currently don't have any partners," reports Matt Keenan, BN3TH Sales Director.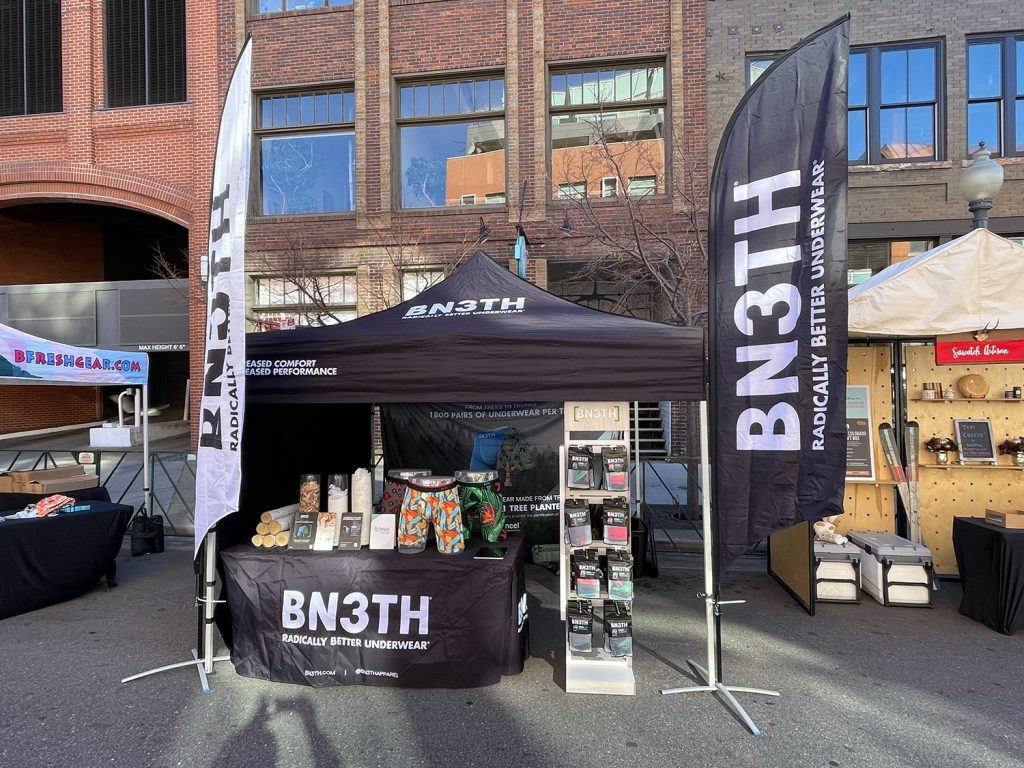 ECOMM HIGHLIGHTS
For the US, we had a total of 3,787 online orders in November! A whopping 1,533 of those were from new customers, while 2,254 were from returning customers. For Canada, we received 5,653 orders — 2,236 from new customers and 3,327 from returning customers. That means a total of 3,769 new customers will now get to experience the world through our radically better underwear!
BEST SELLERS: CANADA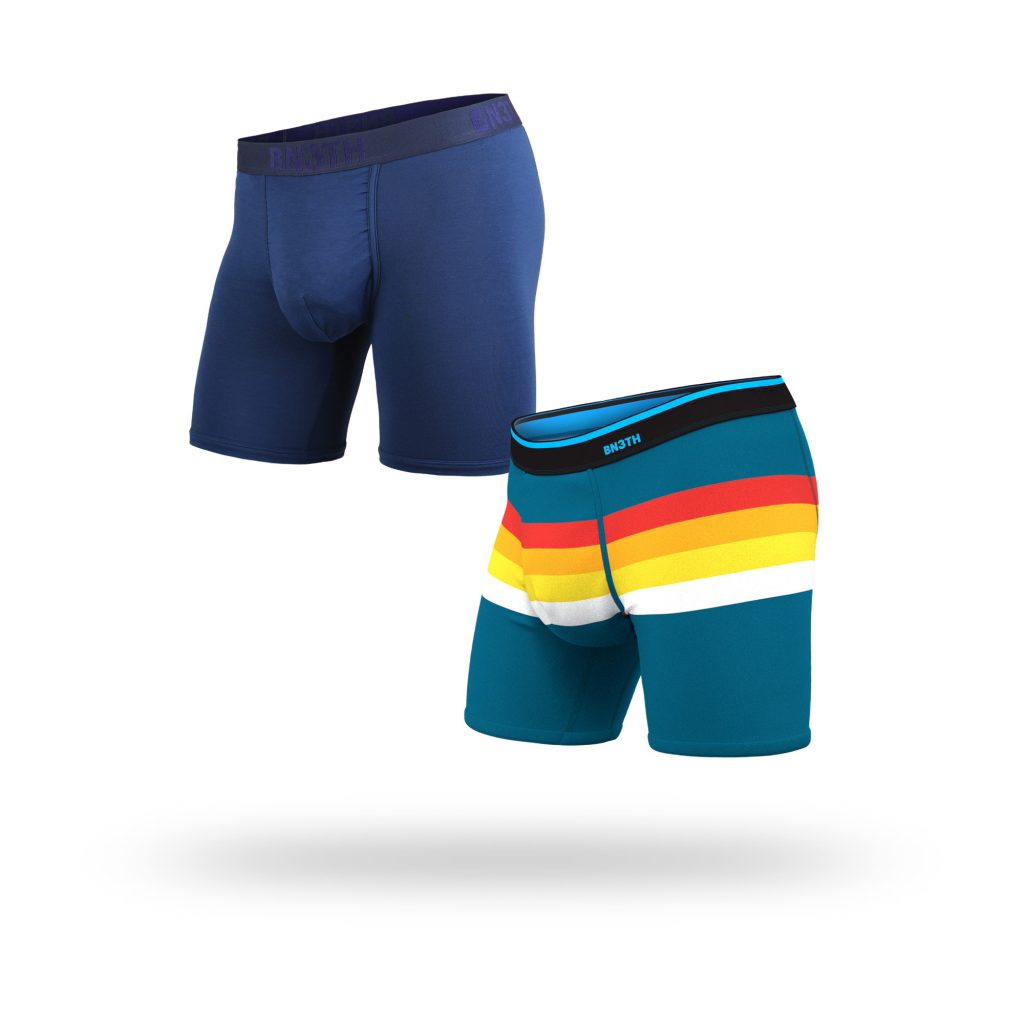 Classic Boxer Brief: Navy/Retrostripe Teal – 2 pack
Classic Boxer Brief: Black/Navy – 2 pack
North Shore Chamois: Black
Classic Boxer Brief: Pine/Covert Camo – 2 pack
Classic Boxer Brief: Black
BEST SELLERS: USA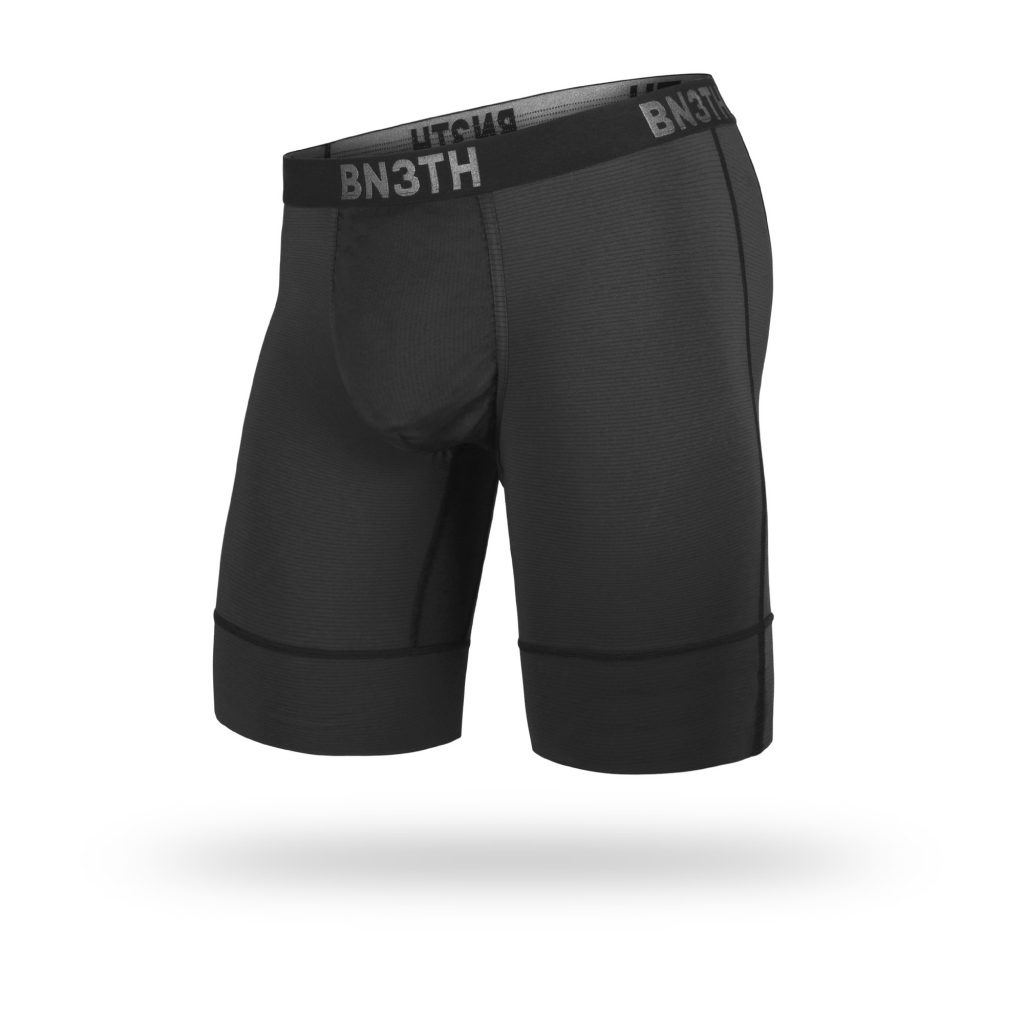 North Shore Chamois: Black
Classic Boxer Brief: Pine/Covert Camo – 2 pack
Classic Boxer Brief: Black/Navy – 2 pack
Classic Boxer Brief: Cascade/Birds – 2 pack
Classic Boxer Brief: Black/Under The Sea – 2 pack
TOP SELLING CITIES: CANADA
Calgary
Toronto
Vancouver
Edmonton
North Vancouver
TOP SELLING PROVINCES: CANADA
British Columbia
Ontario
Alberta
Quebec
Saskatchewan
TOP SELLING CITIES: USA
Chicago
New York
Austin
Los Angeles
Denver
TOP SELLING STATES: USA
California
Texas
Florida
New York
Colorado
BIG MOMENTUM ON THE RETAILER FRONT
Huge news: Ron Jon Surf Shop launched with BN3TH in their flagship store! Shout out to Craig, who worked tirelessly for over a year and half to bring this to life. In November, our teams opened up these new accounts:
Ibells Clothing
Fussells Shop
The Dashery
Shift
Male Fashions
Gene Taylor's Sporting Goods
In rep news…Boston Titensor, our Orange County sales rep, is now taking over the San Diego territory and will be running all of SoCal now.
Upcoming 2022 tradeshows that BN3TH will be shown:
January 5-7 Surf Expo
January 4-6 SPRY
January 8-10 BC Rep Show
January 11-2 Frog
January 16-18 Arisq
January 17-19 Alberta Rep Show
January 26-28 Outdoor Retailer
FIVE-STAR REVIEWS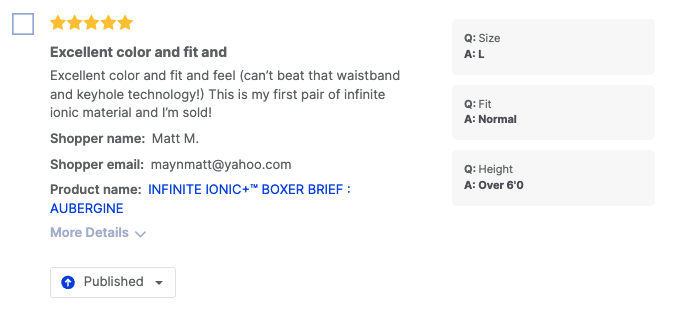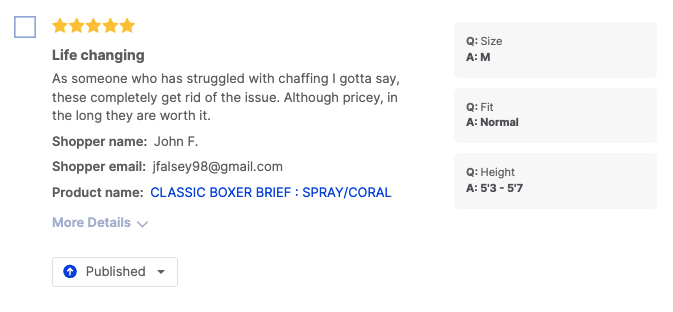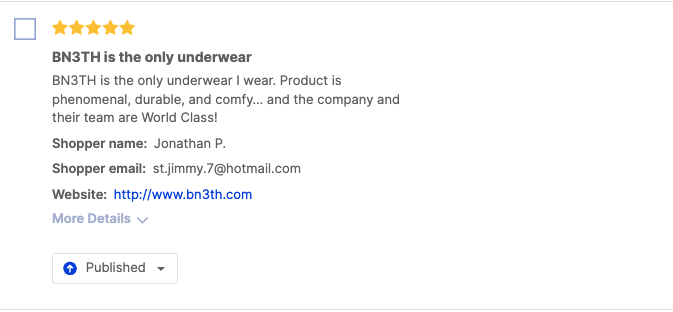 Every month we're bigger and better, with new styles dropping, buzz growing and innovation that's changing the game. Let's keep the motivation going and find new ways to stay radical, and "be good, for nothing".
If you have an idea for the newsletter, or want to share any fun web-world finds, email [email protected]