Happy New Year everyone!
I hope it's off to an amazing start. We are so excited for this new year and I can't believe it's already February.
We've just finished a very exciting January as the team has traveled to different tradeshows around the U.S. I was fortunate to be able to join the Sales and Marketing team at Outdoor Retailer in Denver this last week. "WOW" is really the only way to describe it.
With all the big brands pulling out last minute, it gave us the opportunity to really rise to the occasion. There were lots of great accounts, media and other brands that came by and took the time to really get to know our brand and everything we offer. It was such a rush for me because, for the first time, everyone was coming to us and not the reverse. Matt, Zach and the team set up our most amazing booth to date. It was so cool to see all our products on bust forms and together. You forget how electric it is to be around everyone who has a passion for the industry and the outdoors!
However, it also made it very clear that our value to "be good, for nothing" is very important to remember as we all start getting together more. We all have a different opinions and that's OK. However, it's important to always take into consideration everyone's comfort levels when gathering.
But it is time for us to all be excited! And I, for one, could really use a Sales Meeting with the BN3TH family this Fall. Fingers crossed and more good news to come…
Knowing that things are going to change a lot this year as our world opens back up, I was reminded of this quote from Steve Jobs that I will leave you with:
"If you want to go fast, go alone. If you want to go far, go together."
So take care…wishing all the best to you and your loved ones in 2022 and beyond.
Dez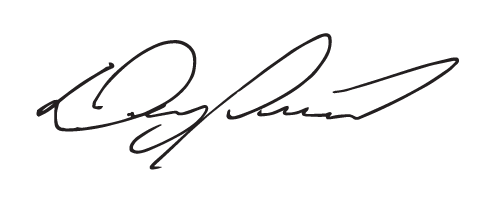 TRADE SHOW SZN IS ON!
Not long after the champagne dried up from NYE, BN3TH's sales team started their January grind. First with the largest watersports trade show on the East Coast — Surf Expo in Orlando, Florida on January 5-7th. They capped off the month in Denver, Colorado for mega-show Outdoor Retailer on January 25-27th.
SURF EXPO OPENS NEW DOORS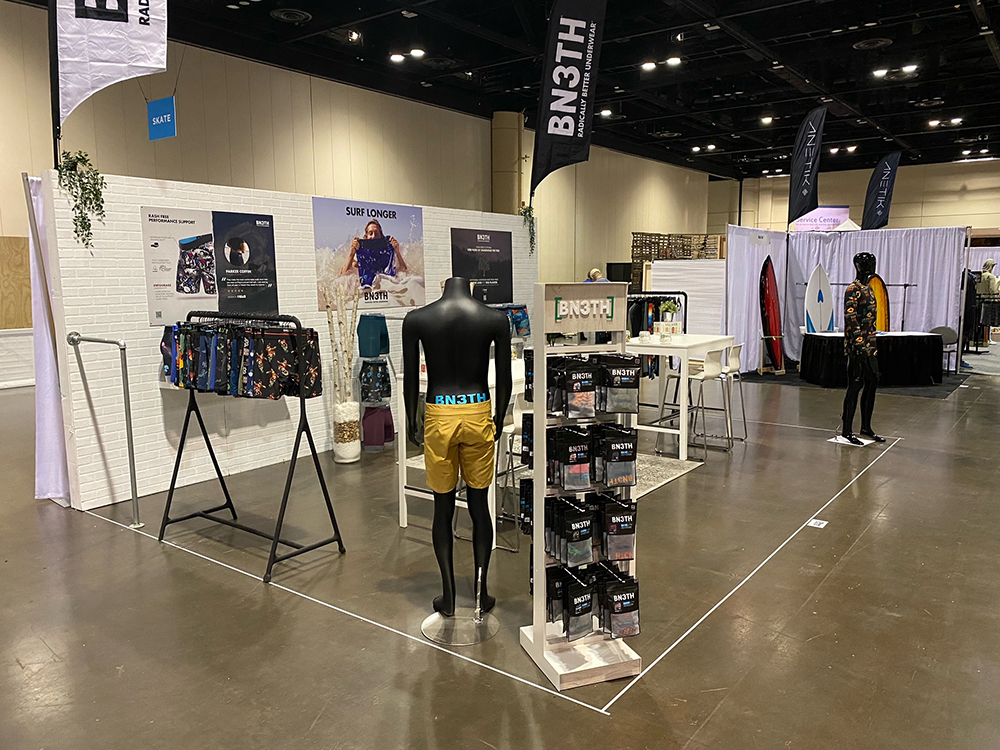 "We opened 47 new accounts and plenty others stopped by and showed real interest," Matt Keenan, North America Director of Sales, reports. "Entourage's Surf Longer campaign resonated well, the accounts noticed it and asked our reps, 'Can you really surf in these?' Overall, there was lots of energy around the space and we were the only brand to show up in our channel and we owned it."
OUTDOOR RETAILER BREATHES BN3TH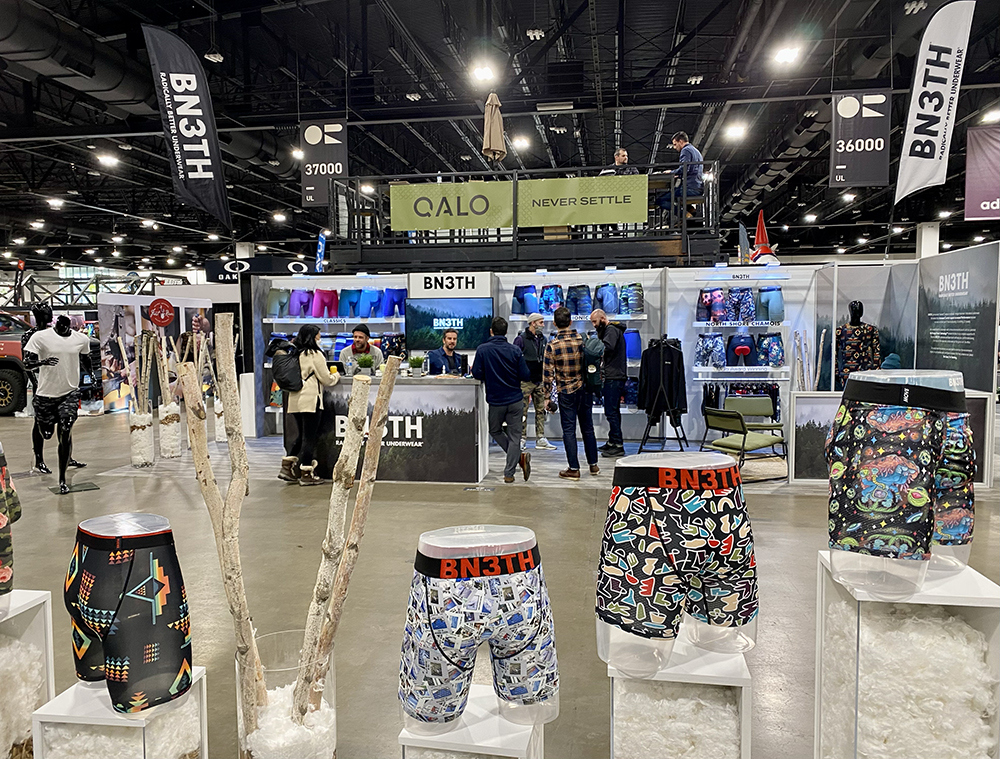 "Having done O.R. for over 10 years now, it gave me chills to walk around and see our booth and sales team and product displays all lit up," BN3TH founder Dez Price said. "There was definitely that 'wow' factor. The biggest thing I recognized was that people were seeking us out. All our conversations were meaningful with people wanting to get to know the brand and our products better. It was rejuvenating in a big way. Being around people who share so much passion for the outdoors gave off such an electric feel."
THE TEAM CONTINUES TO EVOLVE
Vince Ho joins us as the Trade Marketing Manager. He is a member of the Marketing Team who is directly focused on assisting our Wholesale Sales Team (reps and retailers) in bringing our brand to life and driving demand with consumers. This is a newly created role that provides dedicated focus to an important facet of our growing business. It is an honor to have attracted the level of talent that Vince brings to our organization. Matt Keenan and I have direct personal experience with Vince through our shared time together in the Nike LA office. During that time, I was consistently impressed at how well Vince managed large projects that created authentic connections with communities and growth with business partners. — Zach Boon
BE GOOD, FOR NOTHING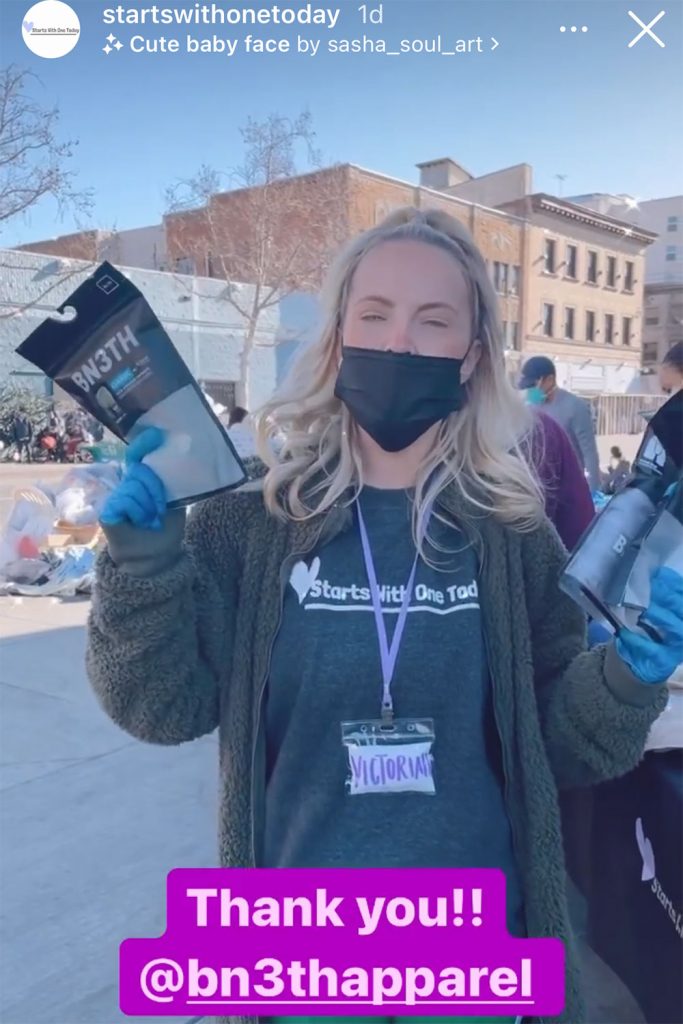 Recently, we dropped off 120 pairs at the Lookout Society down the street from the office. They support the less fortunate by providing temporary shelter, food and clothes in North Vancouver, as well as other parts of Vancouver and the Downtown Eastside. The product was all returned pairs that have been sitting at NRI, mostly due to e-comm customers trying them on and sending them back (wrong size). They now have a much better home where they can do some good in the community.
Find a Purpose Academy/Starts With One Today stopped by NRI USA to pickup 190 pairs! They offer temporary housing, food and clothing to the less fortunate in the Skid Row area of LA. Similar to the Lookout Society donation, these were returned pairs that have been sitting around NRI for months on end. And now they're on their way to support those who really need them! — Chad Nehring
ENTOURAGE NEWS
PARKER COFFIN AND TEAM SNAPT4 WIN DA HUI BACKDOOR SHOOTOUT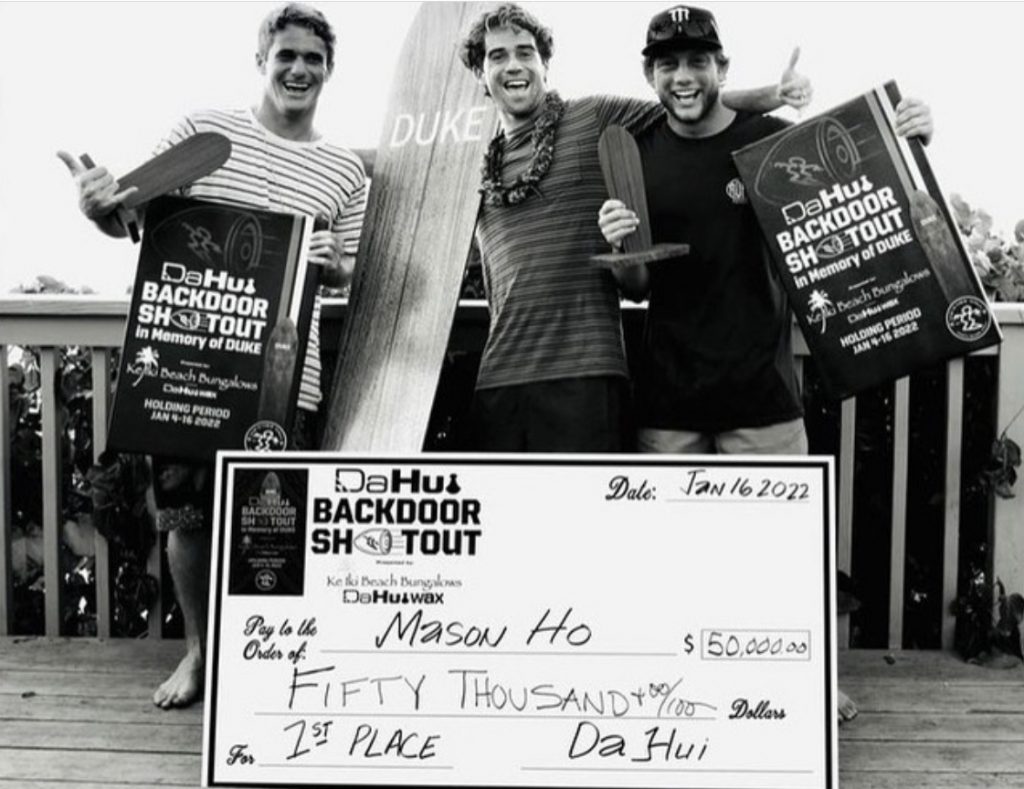 Nobody declines an invite to surf in the Backdoor Shootout. It's held during the best Pipeline conditions of the entire winter, and you surf perfect waves (sans jersey) with three other dudes. So really, everyone's a winner. But it is a competition. And our boy Parker Coffin got paired up with Mason Ho, Barron Mamiya and Benji Brand on Team Snapt4. The quartet of shredders upended star-studded teams like Volcom and Quiksilver to handily take the victory.
BEN HARRINGTON IS HEADED TO BEIJING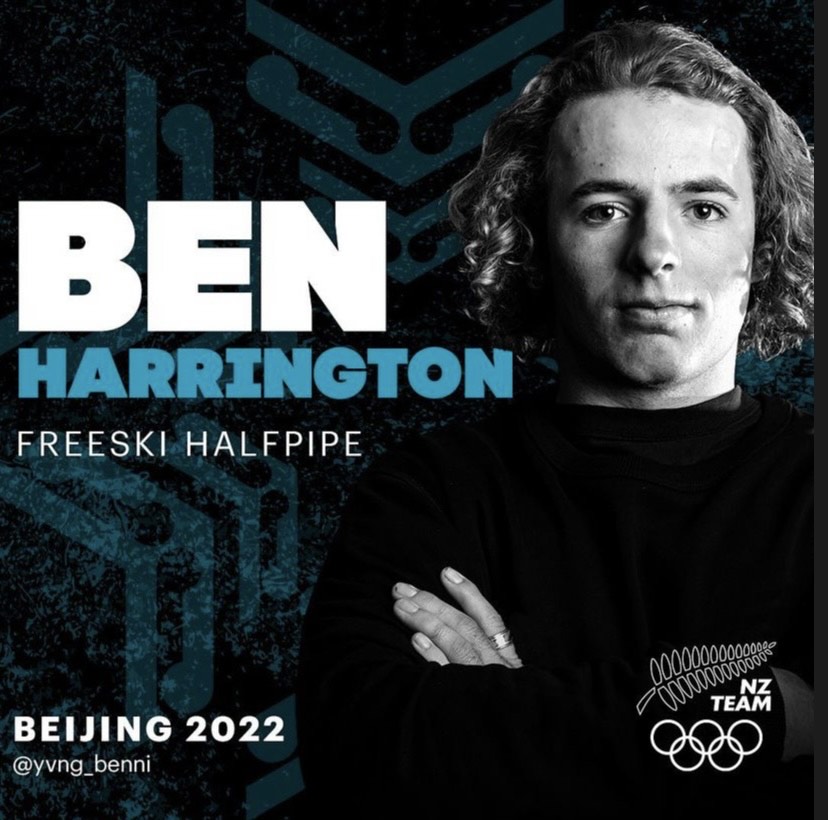 20-year-old New Zealand skier Ben Harrington swears by BN3TH's products. He hit us up for a refresh while he was in the States for the US Grand Prix and X-Games. And then we got the message… "We going to China! I still feel like I'm dreaming. 10-year-old Benni would be smiling right now."
BN3TH THE SURFACE BLOG IS BACK!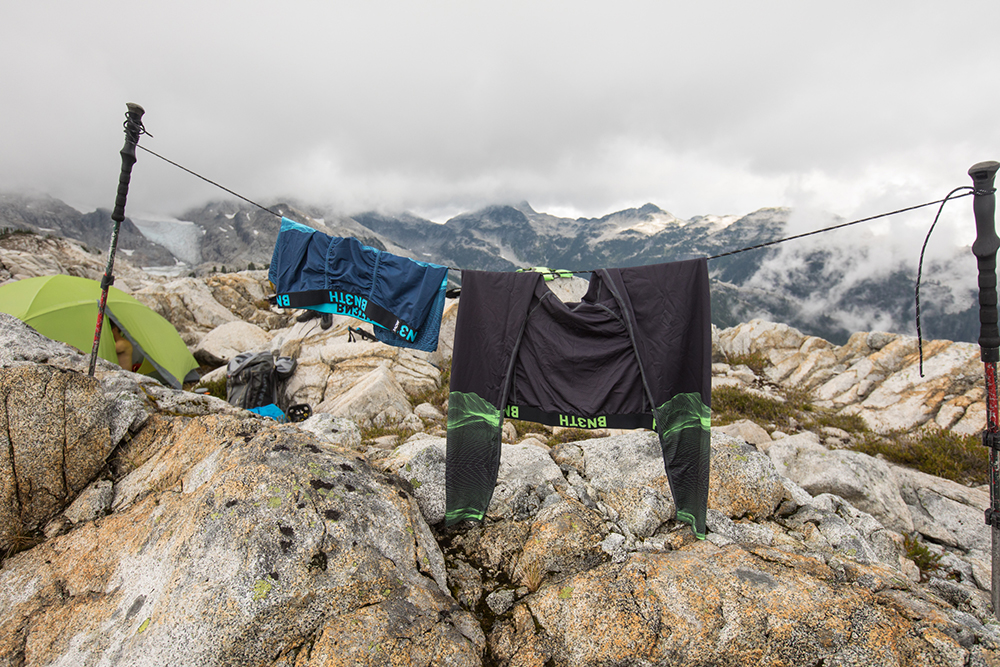 After a brief hiatus, the blog is back on BN3TH.com and BN3TH.ca. We kicked off the relaunch with some adventurers examining underwear's role in backcountry excursions. And there's plenty more on deck! So be sure to check back often for more insights and inspiration for everything underwear.

OUTSIDE MAGAZINE PRINT ISSUE PICKS BN3TH'S ENTOURAGE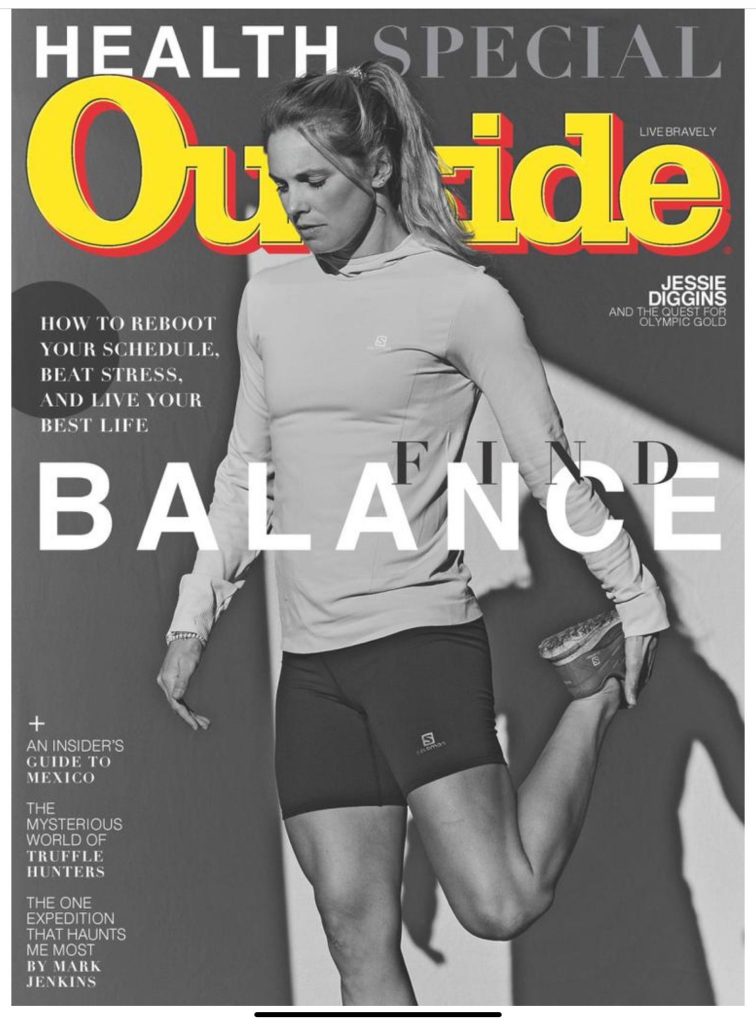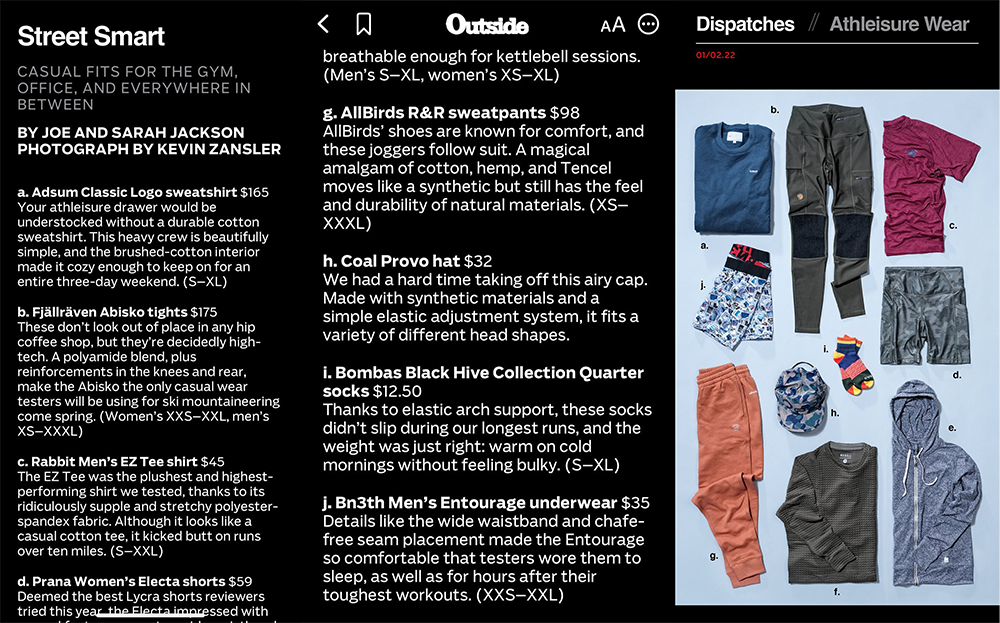 ADDITIONAL DIGITAL MEDIA HITS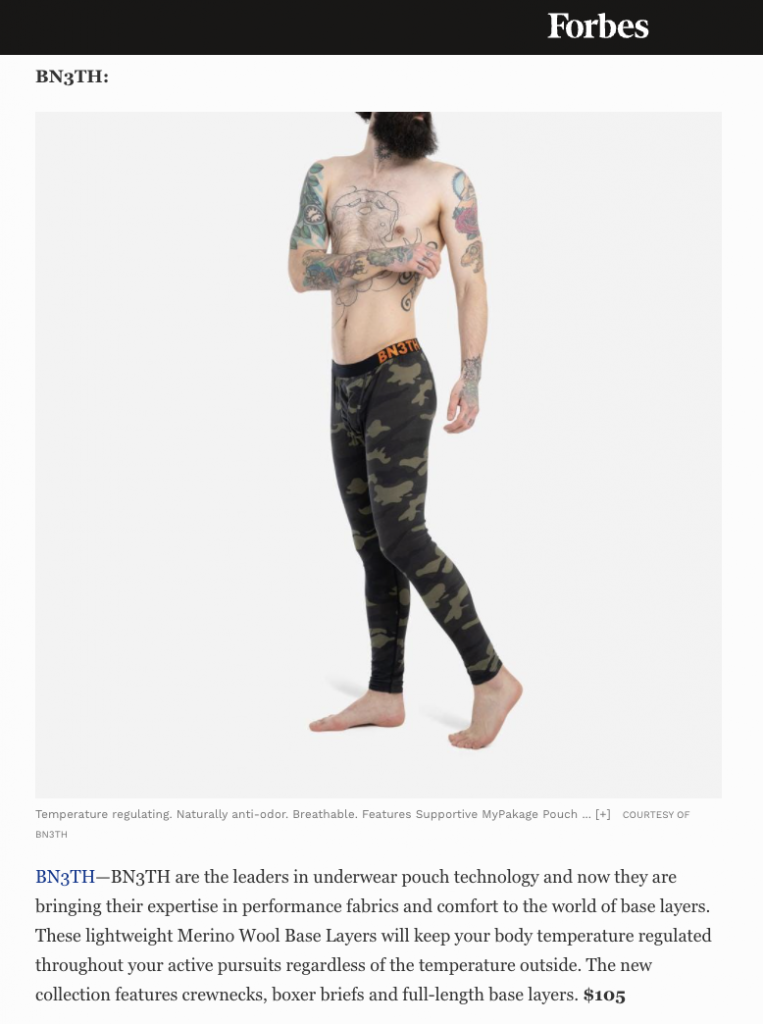 https://www.forbes.com/sites/josephdeacetis/2022/01/24/the-newest-mens-ski-wear-of-2022/?sh=551574cb228f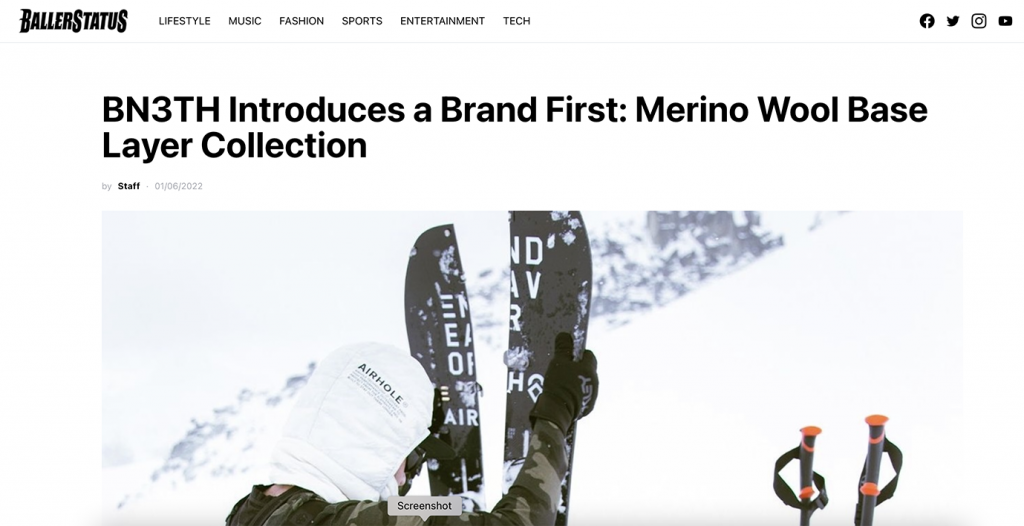 https://www.ballerstatus.com/2022/01/06/bn3th-introduces-a-brand-first-merino-wool-base-layer-collection/

https://www.themanual.com/fashion/best-merino-wool-clothing-for-men/
VALUED EDITOR FEEDBACK
"Extremely positive feedback from myself and my colleagues who tried an item. Will definitely have it front of mind for future fits". – Keith Gordon, Maxim
"They're honestly quite possibly the most comfortable base layers I've worn, and actually fit properly for my 6'2″ height — very impressive". – Brian Adee, GearMoose
"Got them and wore top to pilates today! Love the stuff". – Mike Hardaker, Mountain Weekly News
"I've been wearing these tights for over a week straight during an historic freeze here in the islands and they are the sauce—wore like a much needed second skin, love 'em!" – Rob Lyon, Lyon Expeditions

JANUARY BY THE NUMBERS
786 New Followers
3.9 Million Impressions
29,902 Engagements
0.8% Engagement rate
OUR HIGHEST ENGAGING INSTAGRAM POSTS FOR DECEMBER/JANUARY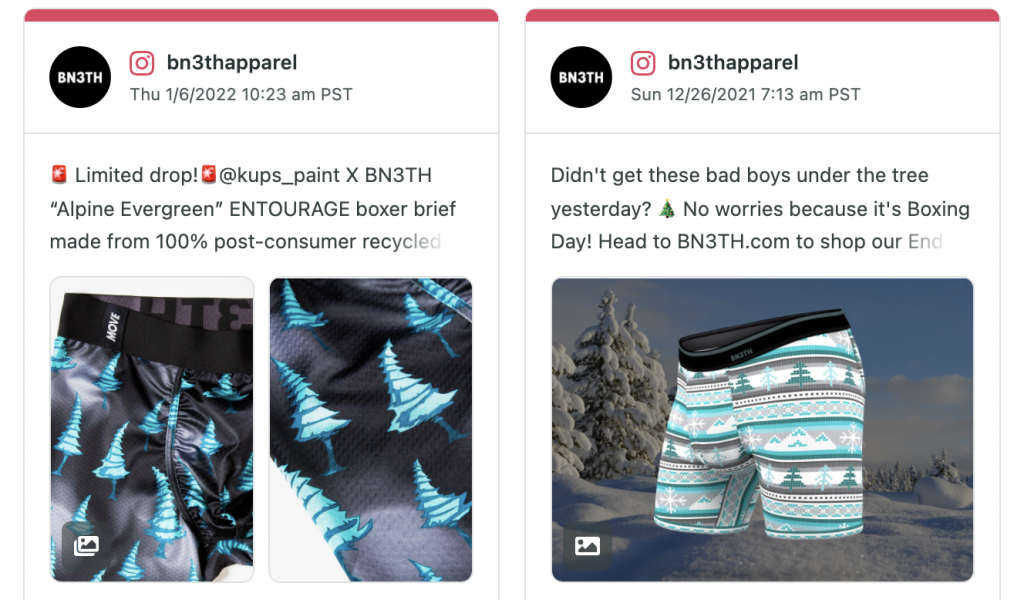 MORE SOCIAL ACTION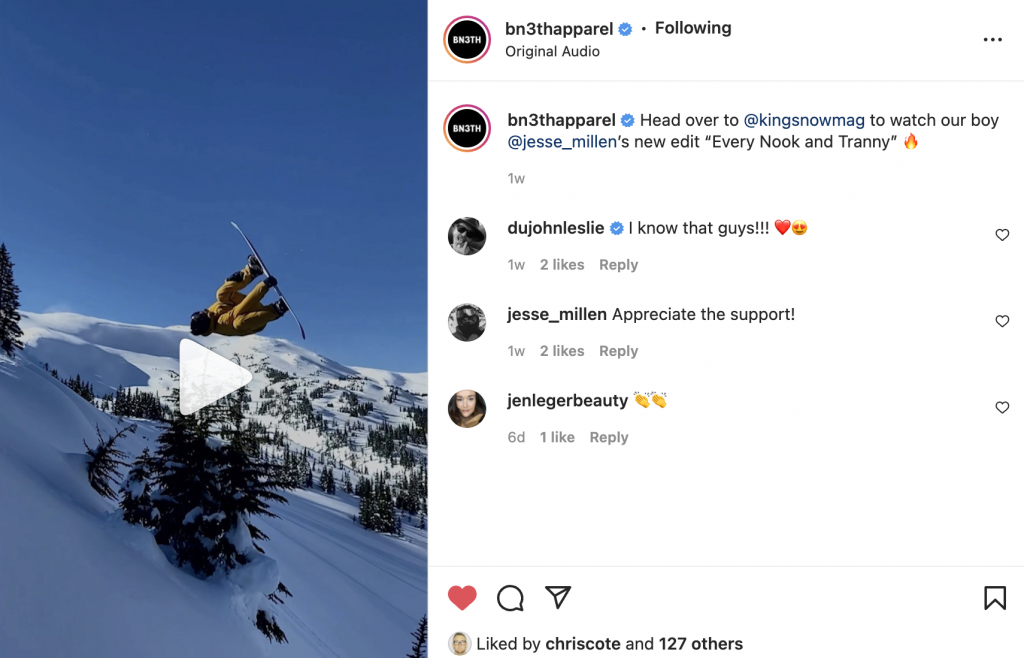 GMG RACING HITS THE TRACK AT DAYTONA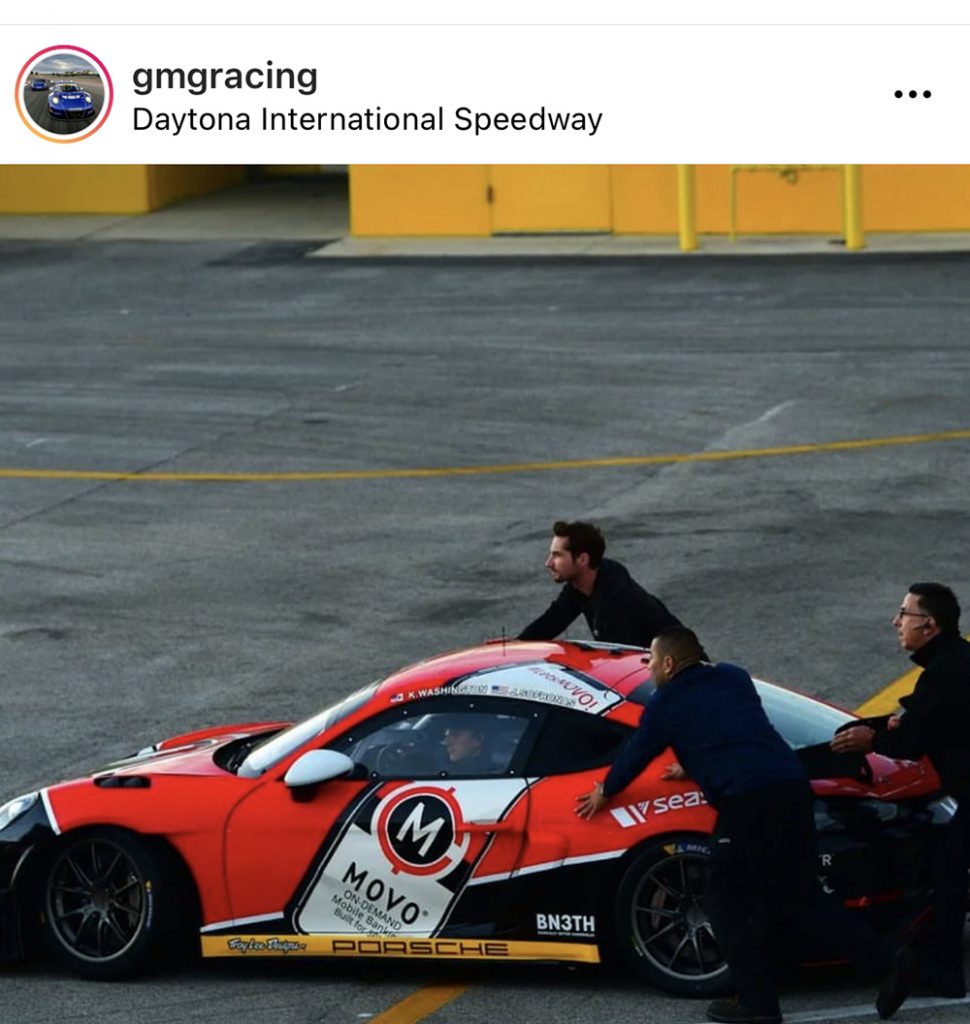 The Global Motorsports Group's Porsche 911 GT3R (rocking BN3TH logos!) arrived to Daytona International Speedway and began practice laps to prepare for the highly-coveted Rolex 24 which went down on January 29th. The Rolex 24 features 24-hours of non-stop racing!

BOXING DAY SALE DUMPS (INVENTORY) AND PUMPS (REVENUE)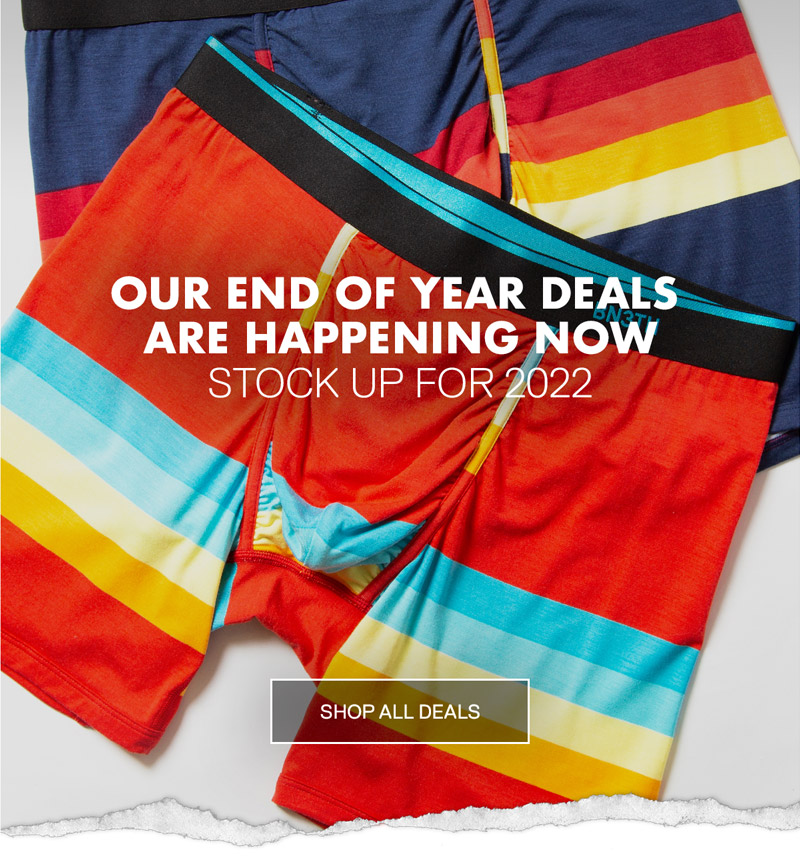 We extended our Boxing Day sale to run through January 2nd and it served a two-pronged effect by ridding the warehouses of excess inventory and also pushing our year-end numbers even higher as we neared the finish line of 2021.
NEW SPRING PRODUCTS DROPPING ON BN3TH.COM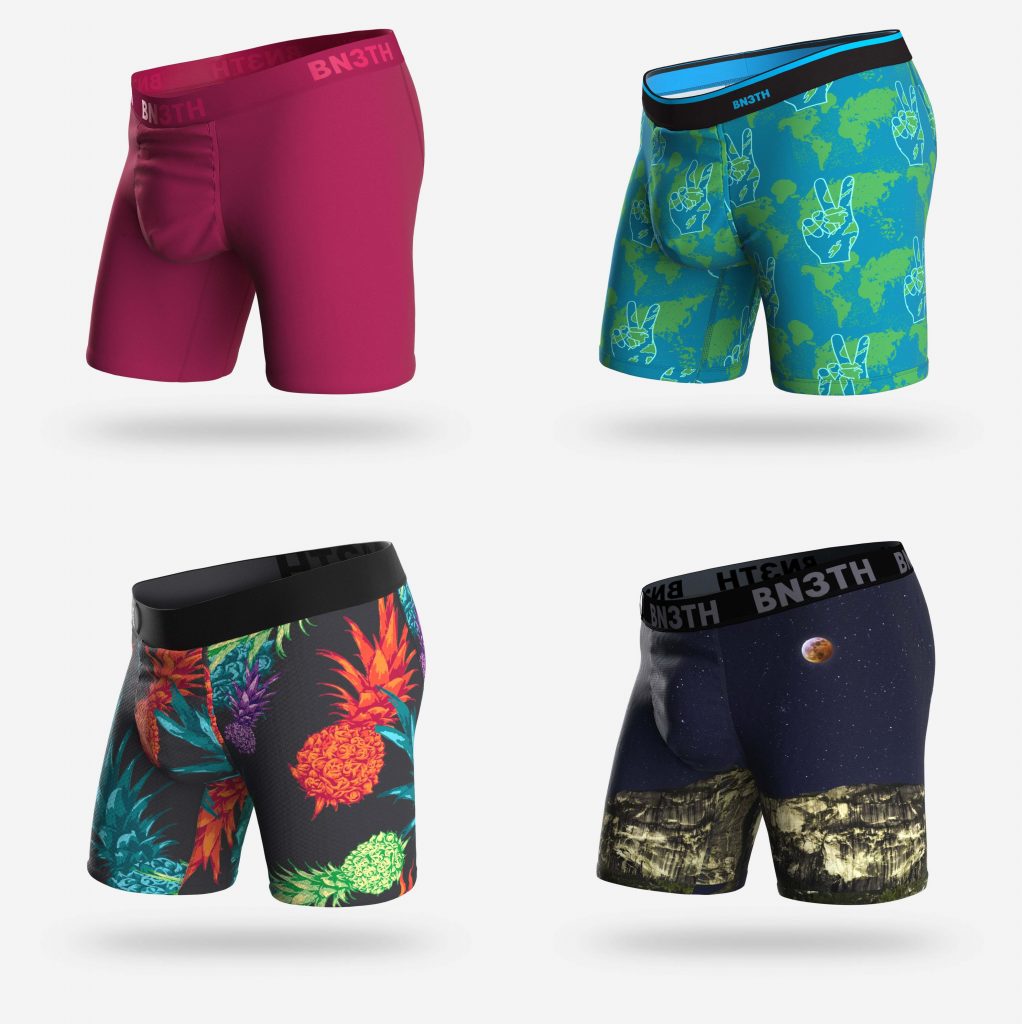 A handful of Spring/Summer 2022 styles arrived on the US site during the final week of January and hit the Canada site by the end of the month. The release of these products gives Marketing a fresh batch of images and exciting new copy to showcase BN3TH to our consumers.
VALENTINE'S DAY MARKETING PUSH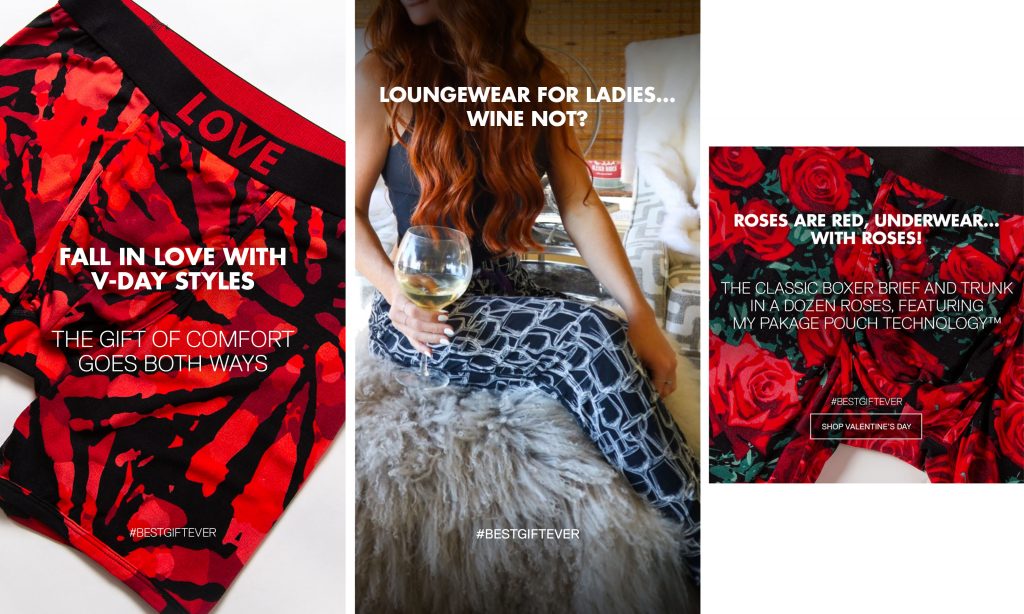 Feel the love! We began promoting our Valentine's Day styles in mid-January with some email blasts and backed those up with Instagram Stories. By late January, the product and language surfaced on Facebook and our Instagram grid. We walked a fine-line between informing/inspiring our consumers but not over-inundating them with a barrage of posts. We simply focused on promoting certain styles that would be appealing to that certain someone.
BEST SELLERS: CANADA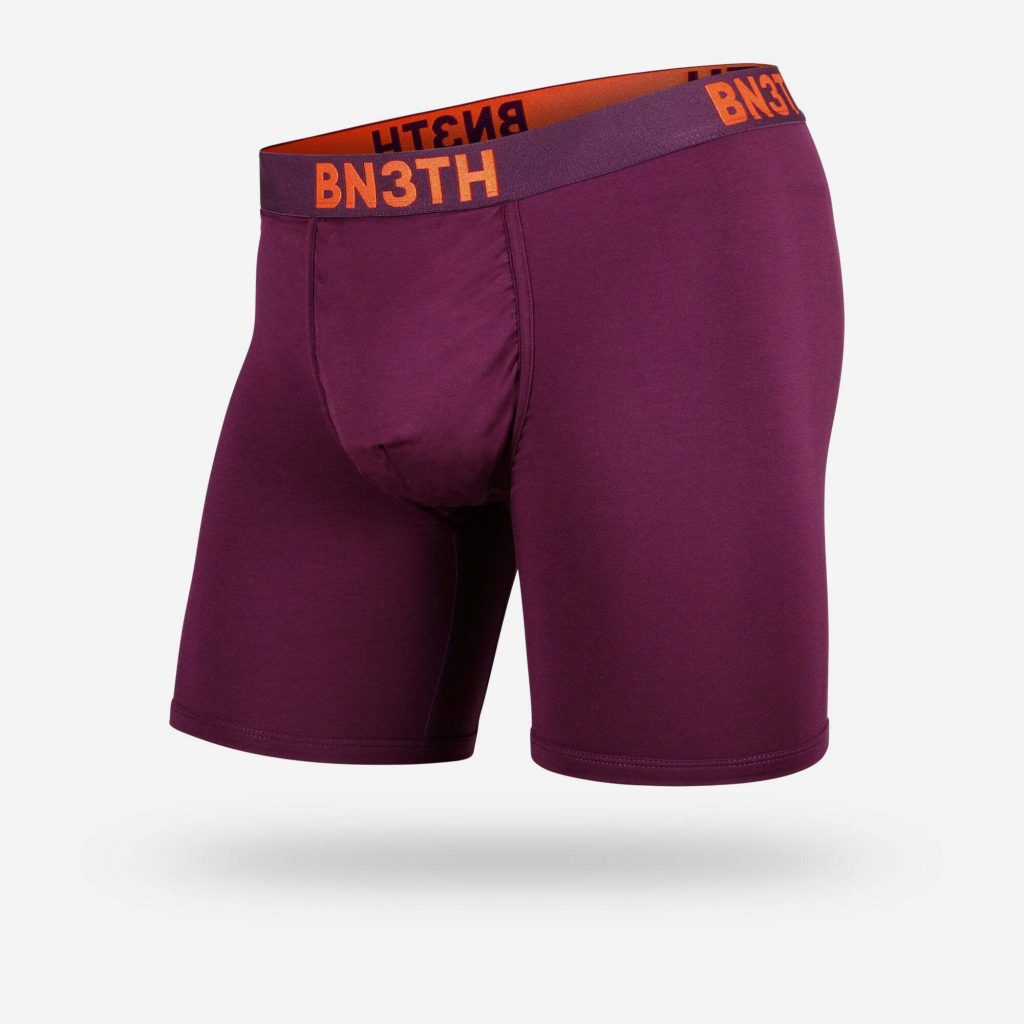 Classic Boxer Brief: Cabernet/Orange
Classic Boxer Brief: Glades/Navy
Classic Boxer Brief: Tie Dye Happy
Classic Boxer Brief: Spray/Coral
Pro Ionic+™ Boxer Brief: Black
BEST SELLERS: USA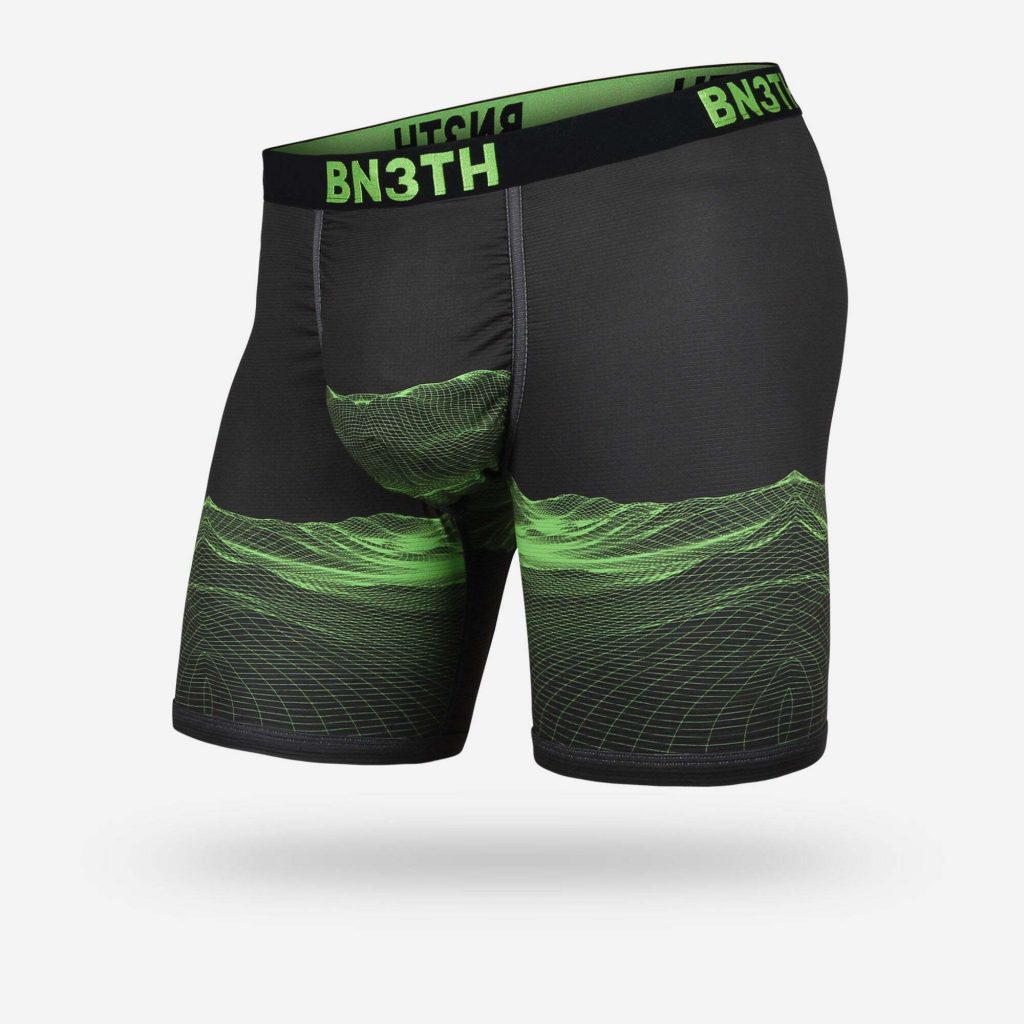 Pro Ionic+™ Boxer Brief: Meridian Green
Classic Boxer Brief: Cabernet/Orange
Pro Ionic+™ Boxer Brief: Black
North Shore Chamois: Black/Black
Classic Boxer Brief: Glades/Navy
HIGHLIGHTS FROM OUR MANY FIVE-STAR REVIEWS





Every month we're bigger and better, with new styles dropping, buzz growing and innovation that's changing the game. Let's keep the motivation going and find new ways to stay radical, and "be good, for nothing".
If you have an idea for the newsletter, or want to share any fun web-world finds, email [email protected]